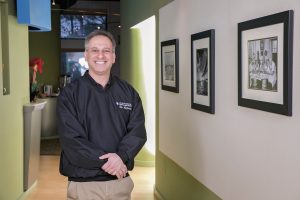 Following in his grandfather and father's footsteps, Dr. Lawrence Michnick graduated with honors (Omicron Kappa Upsilon) in 1993 from the NYU School of Dentistry. After dental school, he completed an intensive year-long residency program with concentrations in implants, restorative dentistry, endodontics, periodontics and oral surgery at Nassau County Medical Center. The residency program also included education in treating the anxious or nervous patient. This includes taking patients who perhaps had an unhappy dental experience in the past and creating an environment leading toward more comfortable experiences.
Dr. Michnick relocated to Ocean City more than 20 years ago. As an active member of the community, he has held all offices of the Ocean City/Berlin Rotary Club and is a past president of Temple Bat Yam. Professionally, he is a member of the American Dental Association and the Eastern Shore Dental Society. Dr. Michnick has also attended several courses at the prestigious Las Vegas Institute for Advanced Dental Studies with emphasis on advanced functional aesthetics and neuromuscular dentistry. Dr. Michnick enjoys spending his time off with his wife, Deanne, and their two children, exploring all this area has to offer.
Dr. Christopher Takacs joined Atlantic Dental Cosmetic & Family Dentistry during the summer of 2006. A Wilmington, Delaware, native, Dr. Takacs studied mechanical engineering at the University of Delaware and graduated with his Bachelor of Science in 1998. He then went on to the University Of Kentucky College Of Dentistry to earn his DMD. Dr. Takacs has taken an interest in implant and restorative dentistry and has concentrated his continuing education in those areas. Since coming to Maryland, he has joined the Maryland State Dental Association, the Eastern Shore Dental Society, and continues his American Dental Association® membership.
Locally, he is an active member in the Ocean City Lions Club and enjoys spending time with his three children, Taylor, Lewis and Arden. Other hobbies include golfing, fishing and oil painting.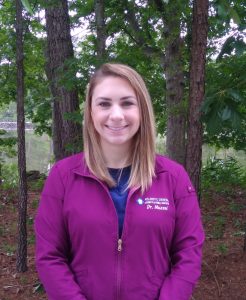 Dr. Kristen Mazzei attended Penn State University and earned a Bachelor of Science in biology and a minor in English. She then went to Temple University's School of Dentistry to earn her DMD, where she graduated with honors. Dr. Mazzei was drawn to general dentistry, as it permits continuity of care and the development of a life-long partnership with patients to maintain their oral health.
Dr. Mazzei grew up in Western Maryland. She spent 8 years in Pennsylvania to pursue her education. After school, she decided to leave Philadelphia and move to the Eastern Shore to be closer to her boyfriend. She loves everything the area has to offer, especially the small-town feel and endless outdoor activities. In her spare time, Dr. Mazzei enjoys running, kayaking and cooking. She looks forward to growing with the team at Atlantic Dental and getting established at the shore.
Meet Our Team
We value the hard work and dedication that our team brings to the office here at Atlantic Dental Cosmetic & Family Dentistry. Our team is dedicated to crafting an environment for our patients that feels warm and inviting so you can have an enjoyable experience. To learn more about our dental practice in Ocean City, Maryland, please feel free to contact our team today at 410-213-7575 and set up a visit with our dentists!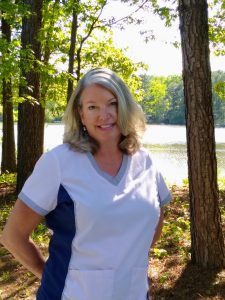 Judy began her career in dentistry some 25 years ago. She graduated cum laude from the Medical College of VA with a Bachelors Degree in Dental Hygiene. She is a current member of the American Dental Hygienists' Association, Maryland Dental Hygienists' Association and the Eastern Shore Dental Hygiene Association. Over the years, Judy has had the opportunity to practice in a variety of settings ranging from public health pediatrics, to Main Line Philadelphia periodontics, to a unique practice in Grand Cayman with views of the crystal blue ocean.
Landing in Ocean City in 1994, she quickly came to love the intimate small-town feeling of O.C. She has two grown sons and reading & workouts fill any spare time. She loves working at Atlantic Dental because the dentists provide state-of-the-art equipment for their patients and more.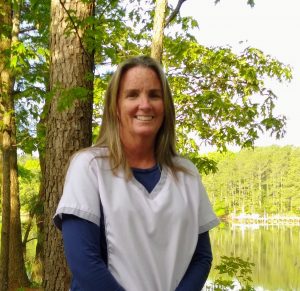 Terry was born and raised on the Eastern Shore. She is a University of Bridgeport, Fones School of Dental Hygiene graduate, and is currently an active member of the American Dental Hygiene Association. In addition, Terry currently is an active member with the Maryland Dental Hygienist Association. She holds licenses to practice in Delaware and Maryland, and has worked with Atlantic Dental for 30 years.
Terry has two grown daughters and now a grandbaby. In her free time she enjoys the beach, boating, golfing, and most of all, spending time with family and friends.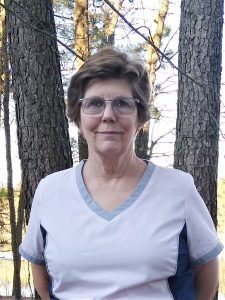 Pat joined Atlantic Dental Cosmetic & Family Dentistry in May 2005. She grew up in New Jersey and moved to this area in 1990. Pat graduated from the Fones School of Dental Hygiene at the University of Bridgeport in Bridgeport, CT with an Associate Degree in Science. She is licensed to practice Dental Hygiene in NJ, NY, and MD, and she has over 35 years of clinical experience working in both private practice and public health settings. She has been married to her husband, Ron, for over 30 years and they have two grown children. Pat enjoys family time, reading, classic car shows, and helping her patients maintain a healthy smile.
Jennifer comes to us with 16 years of experience at a periodontal office. She is excited for her new career at Atlantic Dental. Jennifer is from a small town in Texas. After graduating from high school, she enlisted in the US Air Force as a dental assistant. She traveled overseas to Germany for 2 years. Once completing her service, she attended Allegany College in Cumberland MD and graduated with honors in Dental Hygiene.
Jennifer met her husband while stationed in Germany. They have been married for over 21 years and have 3 children. Their oldest son is carrying on the family tradition and currently serving in the USAF.  They also enjoy trips to the beach, spending time with family and traveling to anywhere warm.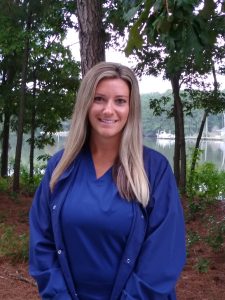 Jennifer A.
Dental Hygienist
Jennifer was born and raised in the Baltimore area and recently moved to Berlin.  She attended Stevenson University for her Bachelors of Science degree and later completed my degree in Dental Hygiene at the Community College of Baltimore County.  She was a part of the Student American Dental Hygienists' Association and was her class representative.  She is now committed to making sure her patients are comfortable and have the best experience!  When she is not working, she enjoys spending time with her husband, two sons, and her dog, Baxter.  She loves going to the beach, bike riding, and traveling!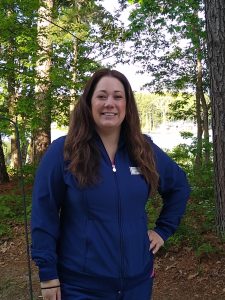 Jessica H.
Dental Hygienist
Jessica originates from New Jersey and moved to the Eastern Shore in 2018.  She graduated in 2007 with her Associates in Applied Science Degree – Dental Hygiene from Allegany College, Cumberland, MD.  She has over 15 years of experience and truly enjoys making her patients feel relaxed and comfortable during their visits.
She has a seven year old son Tyler and enjoys the beach and being outside with him and her yellow lab, Nala.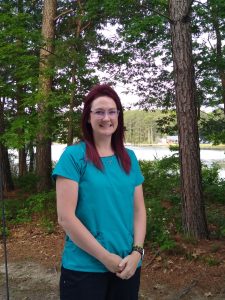 Samantha "Sam"
Dental Hygienist
Samantha is a true local, born and raised in Berlin, Maryland. She graduated from Allegany College of Maryland in Cumberland, Maryland in 2014. Samantha loves bonding with her patients to help them maintain a healthy mouth and lifestyle.
Samantha currently lives in Willards, Maryland, with her husband, Skylar, and their two sons, Jaxon and Finn. Her family enjoys taking the boat out on the bay, fishing on and offshore, and their mini farm containing goats, chickens, ducks and turkeys. Her boys enjoy practicing soccer and jujitsu and playing with their two dogs, Fletch and Colt.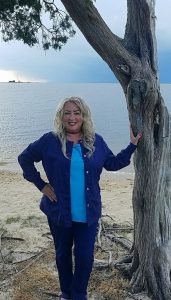 A native of the Shore, Lisa grew up in Snow Hill. She earned her bachelor's degree of Science in Art Education from the University of MD Eastern Shore. After helping at a dental practice during the summer, Lisa fell in love with dentistry. She switched gears to pursue a career in Dental Hygiene. Lisa graduated from Delaware Technical and Community College in Wilmington, DE, and returned to the shore to practice Dental Hygiene. Her favorite part of her job is partnering with her patients to help them achieve optimum oral health and provide the best possible care. Lisa resides in Princess Anne, MD, w/ her fiancé, Mark, three newly adopted kittens, two cats, and a dog. She enjoys spoiling her furbabies, hanging out with friends and family on the boat, by the pool, at a concert, or anything in between. She also enjoys sunny beach days, cooking new recipes, and making every day count!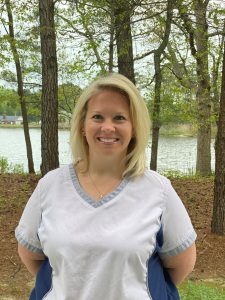 Stacy absolutely loves dentistry! She graduated from Alleghany College of MD's Dental Hygiene program in 2007. She is a local girl from Snow Hill, MD; she has lived on the Eastern Shore her entire life. She currently lives in Pittsville, MD, with her husband, Steve. She has a son, Adam, and a daughter, Abigail, that keeps them on their toes. Their family enjoys going to the OSV on Assateague, camping, laughing, and making memories!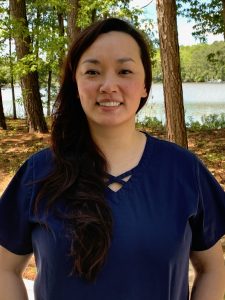 Mother to a happy, smart daughter. Dental assisting since 2006. Enjoys the variety this career has to offer.
I value my supportive co-workers and appreciate all of their guidance!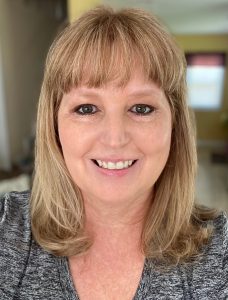 Trina was born and raised on the Eastern Shore of Virginia in the small town of Onancock. She has been a dental assistant since 1996. Trina also has experience in pediatric dentistry and orthodontics. She really enjoyed both fields because they were very different and each provided a unique challenge.
She has found her home at Atlantic Dental and enjoys working with the doctors. She likes that the Atlantic Dental team has fun at work and takes great care of their patients. She has had the opportunity to continue her education by taking classes at the Las Vegas Institute for Cosmetic Dentistry. When she is not working, she enjoys spending time with family and friends.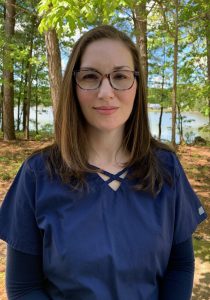 Stacy has been with Atlantic Dental since 2011. She is from Berlin, MD and she graduated from Wor-Wic Community College. As a dental assistant, Stacy's favorite part of her job is taking care of patients. She really appreciates the family atmosphere of Atlantic Dental.
In her free time, she enjoys golfing, working with stained glass, and spending time with family and friends.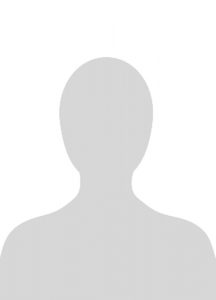 Karen's background is one of patient care. Always pleasant, attentive and optimistic!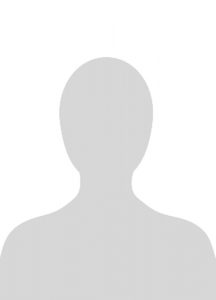 Sara lives in Ocean City with her husband. She has 20 years of experience in the dental field.  She enjoys sport fishing, boating, and social outings with friends.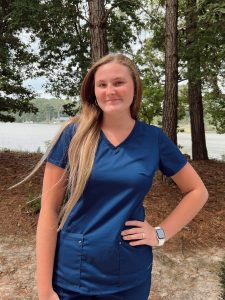 Grace is a West OC native, raised less than 1/2 mile from our office.  She graduated from Stephen Decatur High School and successfully completed the Dental Assisting program at Wor-Wic Community College.  Grace has a true passion for helping people love their smile. Grace is known for her compassionate spirit and understanding. She currently resides in Berlin with her fiancé and her rescued black cat, Nova.  She enjoys spending time with her family and friends on the beach or around a bonfire.  She loves the fall season the most with a fascination for all holidays and traditions.  Grace is truly blessed and excited to be a part of the Atlantic Dental team as she starts out her dream career!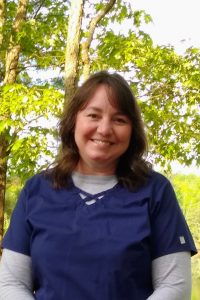 Jessica
New Patient Coordinator
Jessica is from Red Lion Pennsylvania and is a graduate of Wor-Wic Community College as a certified dental assistant. Currently, she is the new patient coordinator for Atlantic Dental. She loves working with new patients and creating the foundation for an excellent patient experience.
When she is not working, she enjoys spending time with friends and family. She also enjoys exploring the Eastern Shore.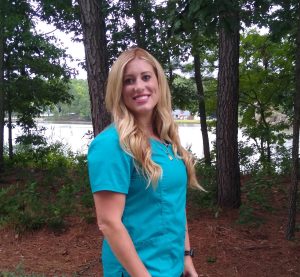 Sarah and her family moved here in 2018 and now resides in Berlin with her husband and three boys.  She enjoys spending time with her family and dogs, whether they are at the beach or at home. She came to Atlantic Dental with some previous medical experience and looks forward to learning more about the dental field.  She always has a smile on her face and ready to help her co-workers or patients.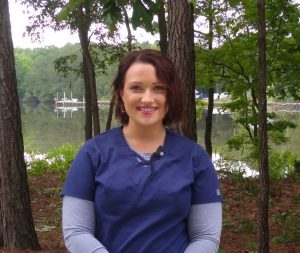 Amanda comes from a background ranging from health & fitness management to orthodontics.  She has always strived to improve the lives of the customers or patients that she serves each day.  She grew up on the Eastern Shore and lives here with her husband and two dogs.  They enjoy exercising, biking trails, kayaking, and spending time with family and friends.  She is so excited to be a part of the phenomenal team here!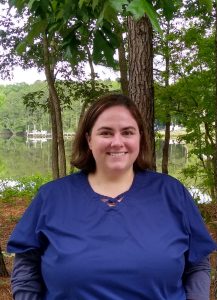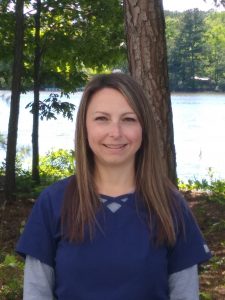 Tiffany
Business Administrator
Tiffany originates from Central Pennsylvania and moved to the Eastern Shore in 2013.  Tiffany,  her husband, and two children reside in Snow Hill, MD.  They live a simple life in the country while enjoying fishing, crabbing and riding bikes.  She has obtained her Associates Degree in Business Management in 2020.  Her goal is to take care of every patient with professionalism and empathy so to insure their experience here in this office is a great one!  The second goal is to make sure that the staff and the doctors are all working together as a team to be the best Atlantic Dental can be for our community.